POLO RALPH LAUREN - Approfitta di 24 ore di accesso in anteprima - Scoprire

MY ELEMENT - CONSEGNA E RESI GRATUITI PER I MEMBRI - ISCRIVITI ORA
1992-2002: FIRE WALK WITH ME
1992-2002: FIRE WALK WITH ME
It all started in the underworld, back when skateboarding was in the underbelly of even the underground. Following the huge boom of the 1980s, the mega-companies and the fanfare, it all hit a wall. With classic concrete skateparks closing down en masse in California due to insurance concerns, a domino effect spread the world like wildfire, and a whole industry crumbled down. At least, an old way did.
In its wake, the empty space allowed smaller, skater-owned companies to flourish - this is how Element, initially called Underworld Element, started in Atlanta GA, back in 1992. Following a couple of masterpiece videos, the company dropped "Underworld" from its name to grow towards the light.
Expanding from its skateboarding roots, Element ventured into other environments than the mean streets. An initial attraction to the great outdoors manifested in 1995 by a new logo. This Element, singular, was going to be about the elements, plural : Wind, Water, Fire, Earth. While the first decade of Element was still very much focused on skateboarding, the intent was already there to do something different.
Joining the ship in 1998, legendary pro skater Donny Barley was blown away by the wind of change, too. Now a brand ambassador and handling the US Northeast sales, the former East Coast skate rat reminisces about the fire that Element lit in skateboarding.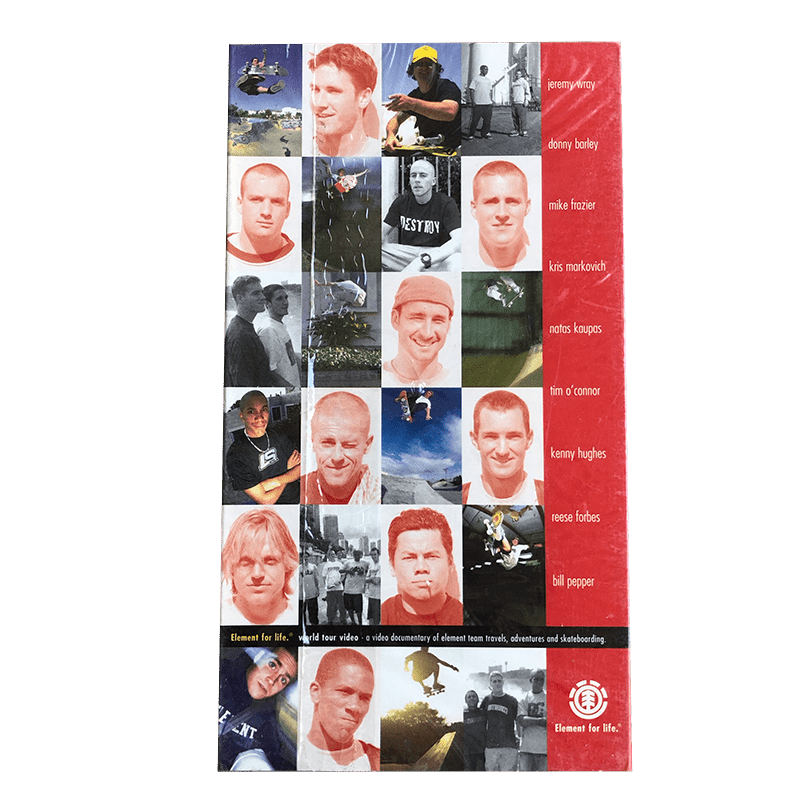 When you turned pro for Element, did you already feel it was trying to do something different than other companies?
Donny Barley: I did. At the time It seemed like an athletic and earthy skateboard brand. But honestly, the team was the main attraction for me. It was a young brand with young ideas, new flavor, with a Bi-coastal feel. Being from the Northeast I really liked that it didn't feel like another California company. It was encouraged that we play a role in shaping the brand's future. I loved that; it drove me to invest myself deeper into the brand. That ecofriendly aspect of the brand was slowly being introduced around the time I was becoming involved.
In the late 90s, vibing was still an art form in skateboarding, and Element would sometimes be described as this tree-hugging hippie company, did you feel that at the time?
I may have heard some whispers of that. But we had a very tough team of guys. Kenny Hughes, Reese Forbes, Billy Pepper, Tim O'Connor and then the team grew bigger. Nobody ever disrespected us. We came with the East coast vibes, we beat up skate spots everywhere we went, and we happily made friends everywhere.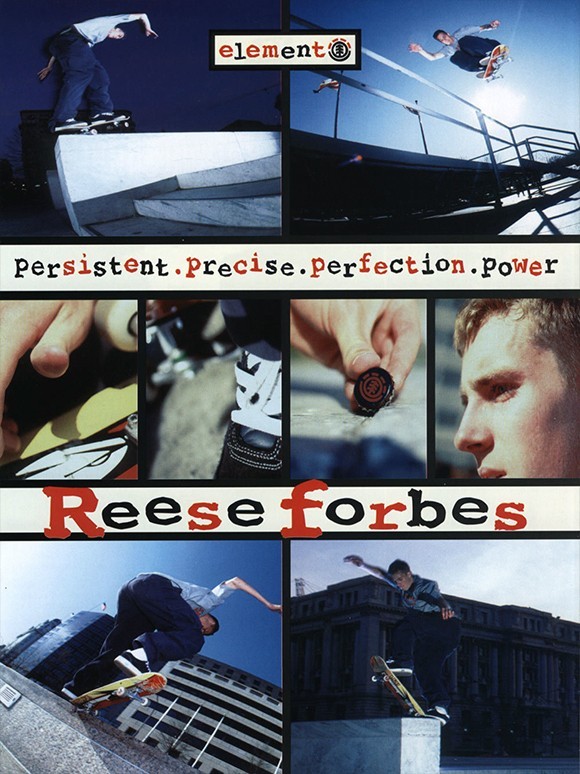 What are some of the key evolutions or projects that resonated the most with you over this first decade?
I always wanted to design clothing or be part of a brand that would create outerwear for skating! Element made a large effort to attack apparel production and that was super attractive to me. Once the channels of production came to fruition the fun started to happen. We made backpacks, pants, and a variety of outerwear. Then the Burley pant was introduced and that was a huge highlight for me. They listened to my direction, they delivered - I could share many other favorites, but I'm going to stick to tooting my own horn! I really enjoyed the DROP SPOT obstacles we made, that was cool. And it's been fun to make custom product for core skate shops.
To you personally, what is a particular memory that stands in your mind from the 1992-2002 decade at Element?
Traveling with the group that is featured in the World Tour video! All the trips around the globe. Each of us had our own skate style, inspiration every day. We had this one session with Natas Kaupas in Australia that was incredible - He was floating these timeless ollies over this hip, he grabbed a few too. I think all of us recognized how special it was at the time!