20 € offerti ogni 100 € di acquisti

Offerta valida fino alla mezzanotte del 03/04/2023. Sconto immediato di 20 € ogni 100 € spesi (sconto massimo di 100 € per carrello) sui prodotti della nuova collezione primavera-estate, indicati dalla formula "20x100". L'offerta non include i prodotti già scontati, i prodotti e gli accessori tecnici (per surf, snowboard, sci, swim e skate). Offerta non cumulabile con altre operazioni commerciali in corso. Offerta valida mei punti vendita partecipanti.

MY ELEMENT - CONSEGNA E RESI GRATUITI PER I MEMBRI - ISCRIVITI ORA

CONCORSO - Vinci un set di tavole da skate Element x Timber! - Partecipare
Harold 89- An Exhibit of Mostly Unseen Photos by Charlie Samuels.
HAROLD 89- An Exhibit of Mostly Unseen Photos by Charlie Samuels
A look behind some of the now iconic photos to celebrate Harold Hunter weekend and to support HHF.
In the summer of 1989, a young Harold Hunter was on a tear skating all over New York City. No spot was off limits, and it just so happened that Harold had his own photographer along for the ride for the entirety of that summer. It probably didn't seem like it at the time, but the images that photographer Charlie Samuels captured in '89 would contribute to cementing Harold as one of NYC's favorite sons of skateboarding and an immortal influence on the skate scene in the five boroughs.
After Harold's sudden passing in 2006, the Harold Hunter Foundation was created in honor of Harold as a non-profit network for NYC's youth skateboarding community the whole of the NYC skate scene. Fast forward through the years, and this Thursday June 23rd marks the 15th edition of the Harold Hunter weekend in NYC. It's a weekend to celebrate Harold's legacy and HHF through a variety of skate, art and music events hosted throughout the city over the course of a few days.
As a part of the celebration, Charlie Samuels and Element are hosting a special photo exhibition entitled HAROLD 89, where Charlie will exhibiting 45 "mostly unseen images" of Harold from those 1989 sessions at the Elm Foundation / The Boiler Room in Brooklyn.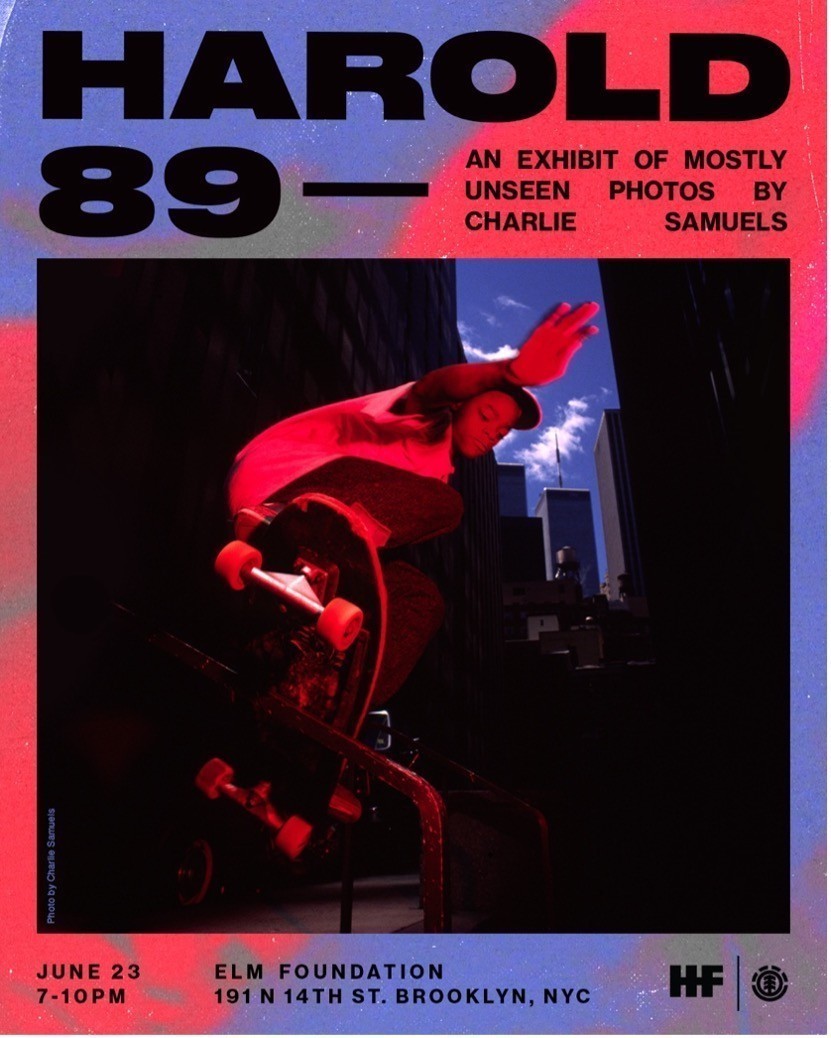 In the leadup to the event, we were able to pull Charlie aside from his prep to peel back the curtain on the four photos from the exhibit that will be up for live auction during the show, with the proceeds going to support HHF. It is always fascinating to learn little details from the people who were present when certain moments were captured, and with Charlie there are always some gems to talk about. We can learn about the vibe of the session, what the traffic was like and what kind of passersby were witnesses to skateboarding history. It truly is an honor to be able to work with Charlie on this event and to learn some nuggets of detail about the photos and Harold before the show.
Each of these photos have been rolled out as ultra-limited 20"x30" prints for the show and will be up for auction both in person and online. All the info on where the show is being hosted and how to participate virtually is below. Enjoy the photos and happy Harold Hunter Weekend!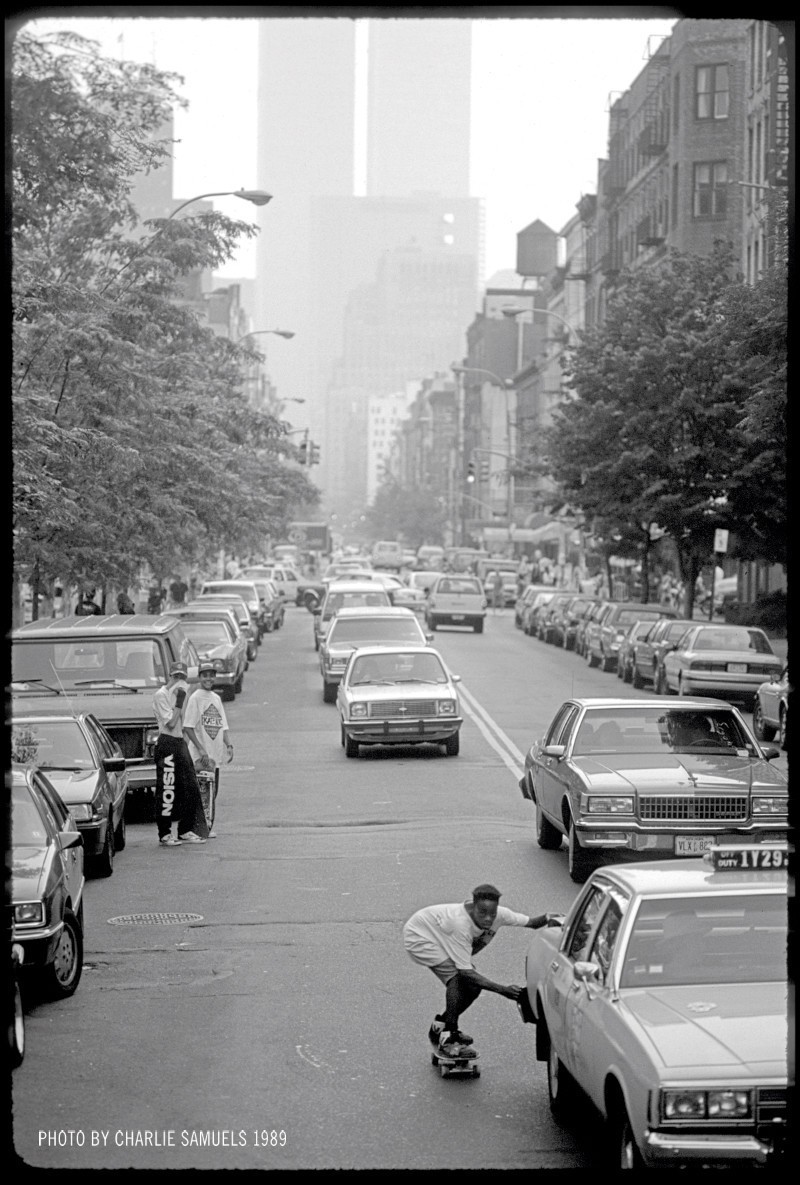 HH Twin Towers
"I was itching all summer to put the Twin Towers in the background as we were skitching cabs all around town – then I saw them over my shoulder. Your standard 'long lens compression scramble-to-the-top of a box truck deal, then hope for the best' type of shot." I prayed that film would capture what I saw.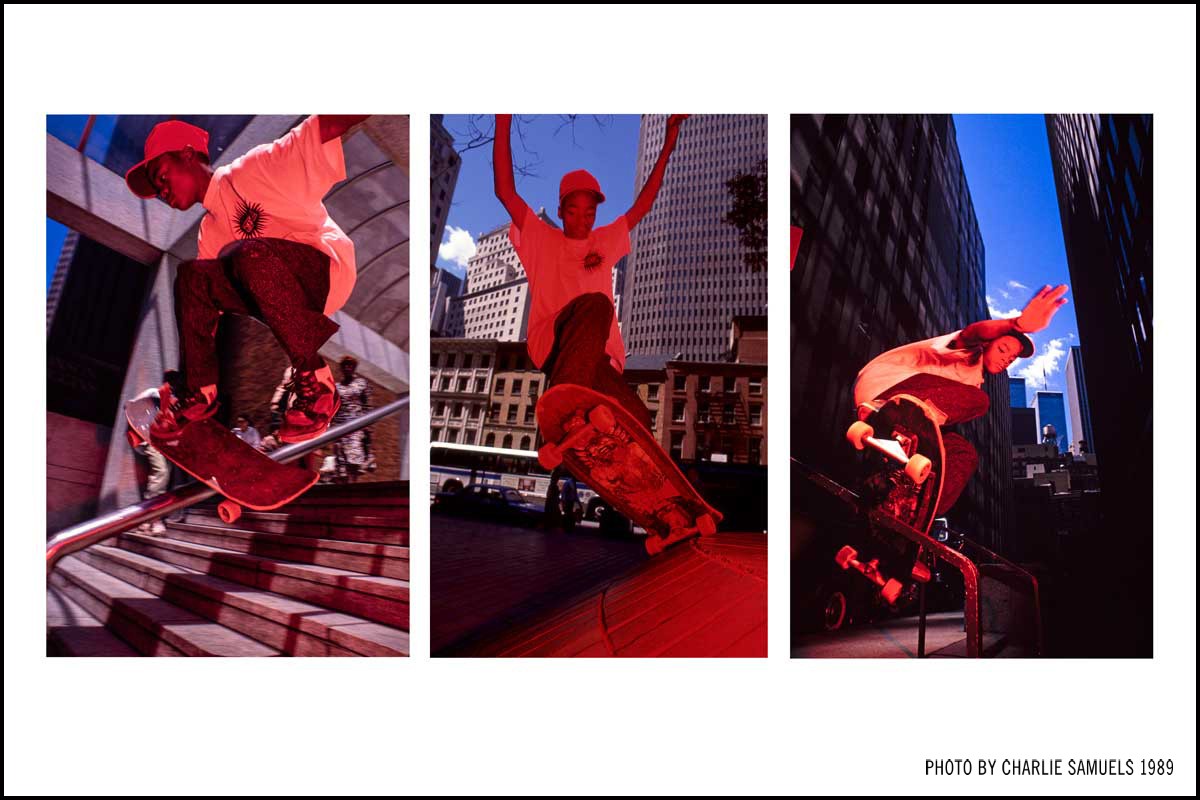 HH Red Railslide triptych
"Most of the frame was in shadow but I had to keep the towers so I blasted him with bold and confident red because that's who Harold is. The downtown suits were aghast."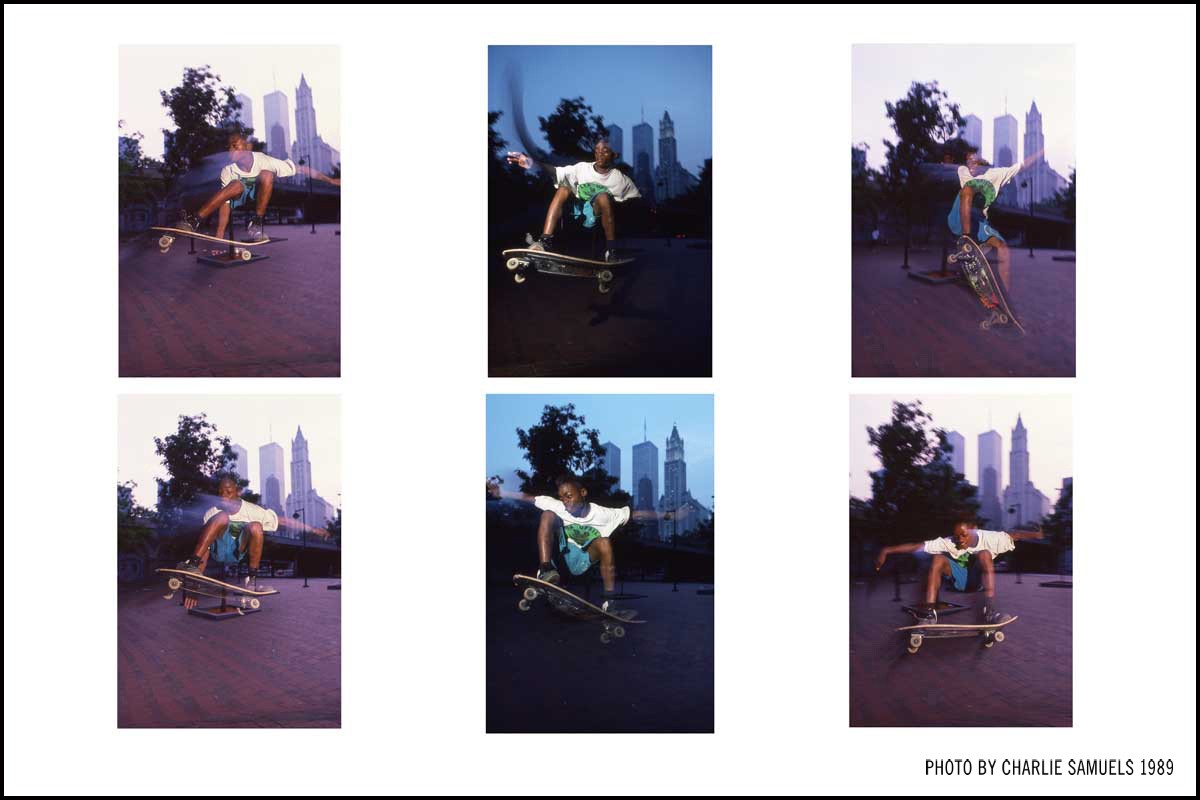 HH Brooklyn Banks
"This is where Harold's amazingly creative personality pops mucho. I don't remember whether I asked him to change his expressions for each frame or if he did that on his own but it def shows his killer awareness of power of imagery.... and he taught ME about it too."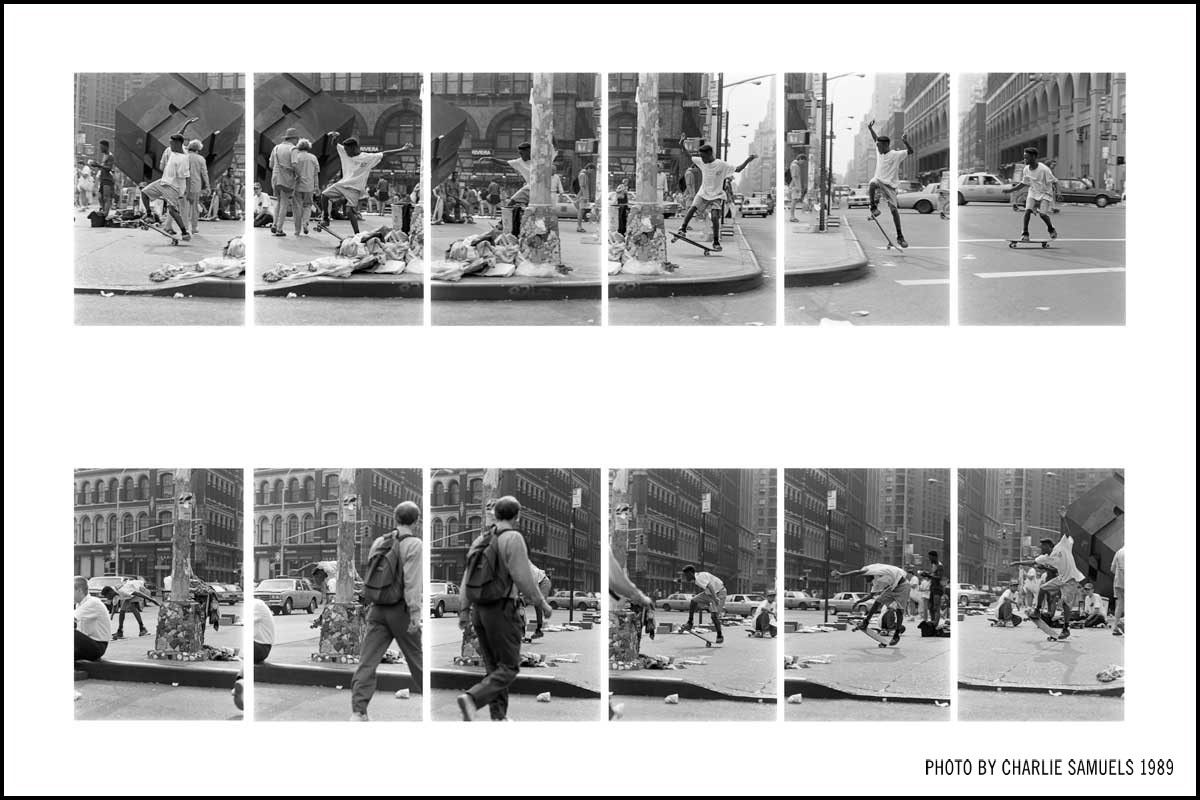 HH Astor Place
"Astor Place then was THE meet-up spot for skaters because it was an island surrounded entirely by chaotic traffic - just the way we like it. Harold is pulling this manual off the only way you could -- by starting and ending amongst gnarly drivers." A motor drive was the only way to go here."
To come and join us at the live event and see these photos along with the full gallery of unseen images of HAROLD 89, the event will take place:
June 23, 2022
7:00 – 10:00 PM
Elm Foundation / The Boiler Room
191 North 14th Street
Brooklyn, NY 11249
RSVP is encouraged at: https://Harold89.eventbrite.com
If you would like to virtually participate in the auction for these four exclusive 20"x30" prints, follow this link to join in. https://app.galabid.com/harold89photoshow/items
As a reminder, all the unpublished photos will be sold with proceeds going to HHF.
You can further Support HHF and shop the limited capsule collection and series of 300 decks beginning on June 24 at HaroldHunter.org.
Element is proud to continue its partnership with HHF to continue Harold's legacy and support HHF in their dedication to the skate community. Long live Harold Hunter, because Legends Never Die!